What's one worth? To Jesus, the value of one is incalculable. If one sparrow falls to the ground, He sees it. He applauds a shepherd who leaves ninety-nine sheep to rescue one that's lost and endangered. God Himself throws a party in heaven whenever one person comes home. Could it be that one is a bigger number than we think?
In September 2011 City Life launched with a singular focus - to reach THE ONE. Now, with the gift of our first permanent building, we have the opportunity to pursue that mission by creating a hub of hope for our city. God has sparked holy momentum for our church, and now is the time to "pour gas on the fire." It's time to take the next step in reaching the ONE: The ONE friend, parent, co-worker, teacher... the ONE far from God. Through our ONE Vision Campaign, we are asking God to provide $1 million "above and beyond" our normal giving by the end of 2020. This giving will advance our vision to adopt an underdog generation into the City Life family, and to raise them to be spiritually and emotionally healthy leaders of families and churches. We know that future opportunity is the result of yesterday's obedience. We want to sincerely thank you for all you've already done to serve Jesus through City Life. The time, energy, and finances you've given are making a difference!
Leah and I feel "on the edge of our seats" excitement to share the ONE vision with the entire City Life family. We know that to reach our goal, every person in our church will need to step up in faith and radical generosity. We hope you'll take time to pray about how God is leading you to reach ONE.
- Pastor Brad & Leah
2019 - 2020 GOAL: $1 MILLION
Through ONE, Kingdom Builders allows us to step out in faith through radical genorosity. All of our commitments in response to the ONE Vision Campaign will flow through Kingdom Builders over the next 14 months so we can follow Jesus' instructions to impact our neighborhood, city, and world with the gospel.
We prayed. God answered. As we have settled into our new home, we recognize the importance of being a faithful steward of this amazing gift. In the next 14 months, we plan to address major needs and opportunities with our building. Our goal is to increase our weekend worship capacity, as well as position the Calvary Temple Campus to be our first citywide Outreach Center. These projects will be a strategic mix of repairs, renovations, and additions.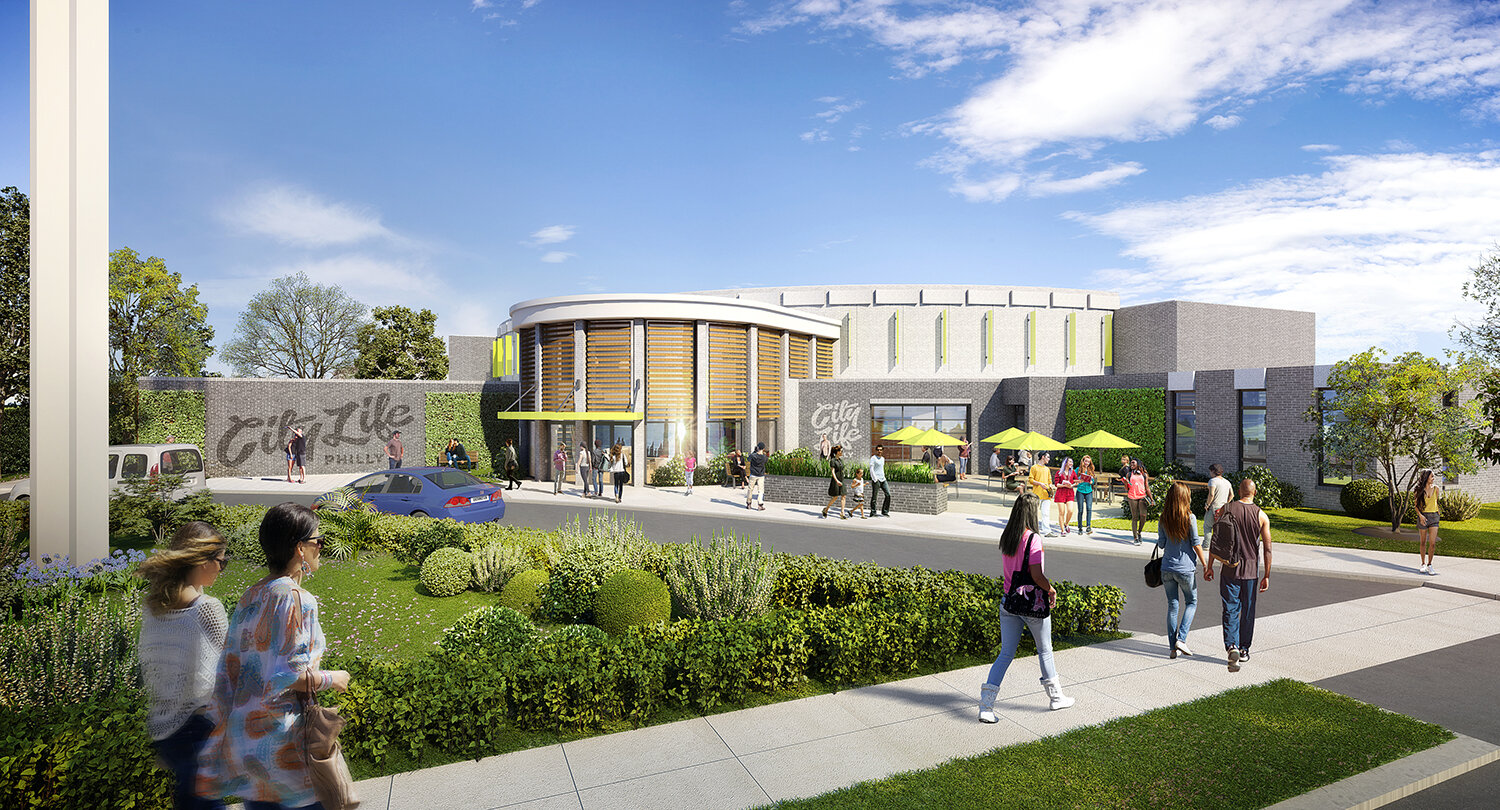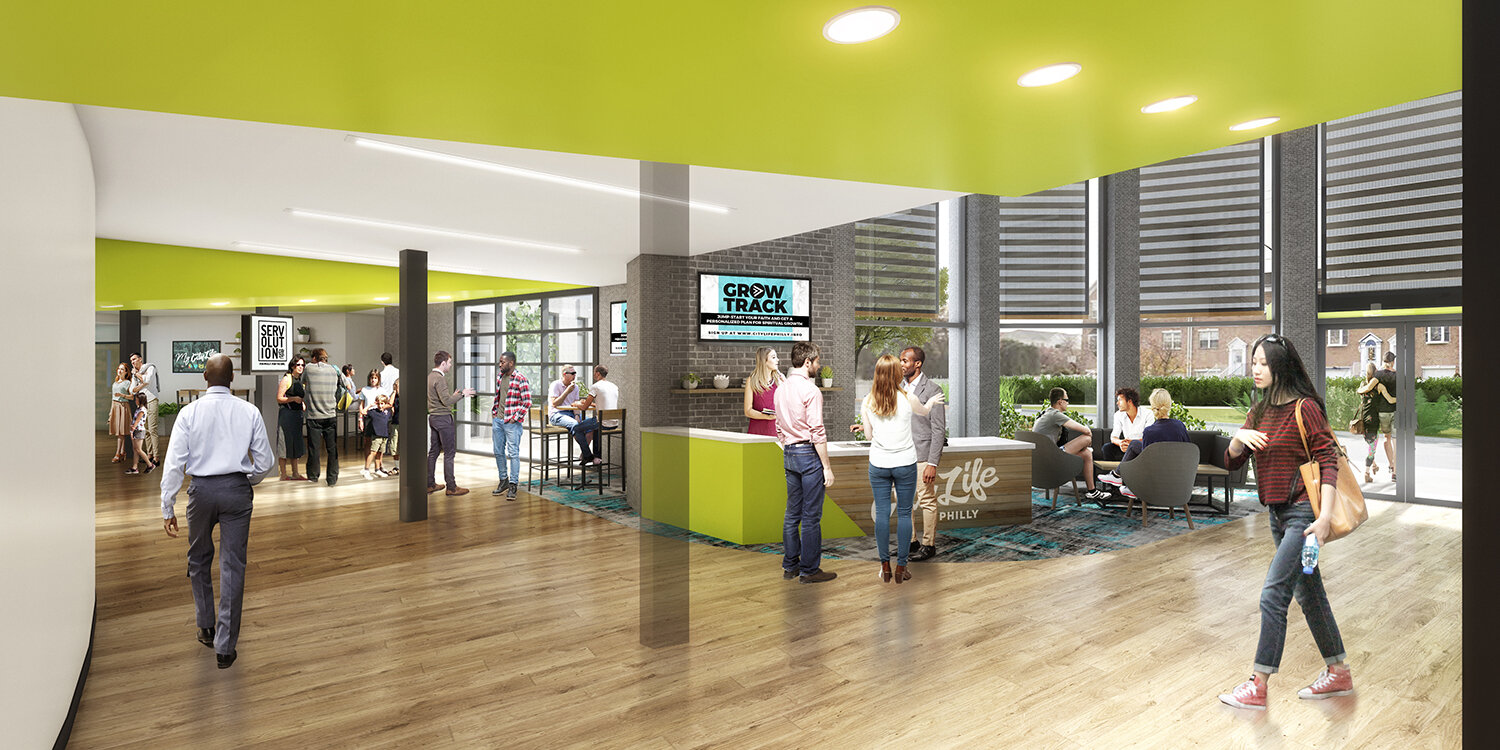 As City Life grows and continues reaching South Philadelphia, we also grow in our potential to set a legacy into motion in other neighborhoods throughout the city. As we work toward future outreach centers and neighborhood campuses, we see "pop-up churches" as a way to build relationships in neighborhoods where God has given us relational influence. The ONE vision campaign will help fund our first SERVE THE CITY TRUCK, through which we can transport hope and life throughout Philadelphia.
Having a vision for the world is central to the Gospel of Jesus Christ. There are ONE's we can reach who we may never meet until we're together in Heaven. Every month City Life currently supports more than forty missionaries and organizations. Through the ONE Vision Campaign, we will also be able to continue developing our long-term, strategic global partnerships to impact causes that are close to God's heart.
Around the world, more than one billion people lack access to a complete Bible in their heart language. In addition, there are 165 million people without a single verse of translated Scripture in their heart language. City Life is a part of a movement that has a plan to translate God's Word for every waiting person in the world by 2026. We will be providing a new translation of the Bible to the estimated 1.1 million Bafumbira people of South West Uganda.
City Life is continuing to invest in the launch of a new ministry center in Chiang Rai, Thailand. Chiang Rai is a strategic location. On the border of Thailand, Myanmar, and Laos, this center will rescue girls in a community that experiences a high volume of trafficking.
We will be partnering with Waterboys and WorldServe International to dig a clean water well for people in Tanzania.
Our strategy to reach the next generation focuses on three priorities:
Outreach centers

Neighborhood campuses

Educational impact
Our long term vision is for City Life to be one house with many rooms, multiplied across the city for maximum neighborhood impact. We believe the opportunity to rebuild our school can be a launching pad for a first wave of outreach as we follow the needs of our students into neighborhoods across Philadelphia. The ONE vision campaign will establish our current campus as our first outreach center, and initiate the first wave of multiplication into our city and beyond.
GIVING TO KINGDOM BUILDERS
To fulfill the ONE vision and our financial goal, we encourage everyone at City Life to engage and play their part! It's not about equal giving, but equal faith and sacrifice. Every dollar counts. As a family, please pray about and ask God to guide your giving this Fall. Together, we can leave a legacy that will impact future generations for Jesus and His Kingdom!
COMMITMENT SUNDAY IS OCTOBER 20
Please bring your Commitment Card and First Fruits Offering to service on October 20. If you would like to give your First Fruits online, feel free to click the button below. Please enter your First Fruits amount under "KINGDOM BUILDERS." Even if you give online, you will still be given the opportunity to submit your commitment card during Commitment Sunday on October 20.

FREQUENTLY ASKED QUESTIONS
Q: WHAT IS THE GOAL FOR ONE?
Our ultimate goal is to facilitate ways to continue reaching the ONE who is far from God. We believe we can do that by asking God to provide $1 million "above and beyond" our normal giving over the course of 14 months to advance our God-given vision to reach THE ONE in our neighborhood, city, and world.
Q: IS $1 MILLION A LOT OF MONEY TO RAISE?
We are blessed to have about 300 families and individuals who give faithfully at City Life. For us to give $1 million it would be an average gift of about $3,400 over the next 14 months. Of course radical generosity looks different for each of us. While $1 million is definitely a huge goal, we serve a big God and believe that with his help it is achievable! Below you can see a Generosity Chart that shows how we can reach our goal with all of us working together.
Q: CAN MY OFFERING BE DESIGNATED FOR A SPECIFIC PROJECT?
Every offering, in its entirety, is a commitment to the overall ONE campaign and vision. We are committed to every project, as God provides, so all gifts go to the broader campaign.
Q: I ALREADY GIVE TO CITY LIFE. HOW IS THIS DIFFERENT?
If you already contribute to City Life through tithes and offerings- thank you! Through this initiative, we're asking you to go "above and beyond" your normal giving, so that we can set a legacy into motion for generations to come.
Q: WHAT ARE YOU ASKING FOR ON COMMITMENT SUNDAY, OCTOBER 20, 2019?
We're asking for your Commitment Card and "First Fruits" Offering on October 20. The "First Fruits" Offering is an opportunity to make your first faith gift towards your goal. You may submit these at Sunday's service or online at citylifephilly. com. We hope our Sunday, October 20 offering is the largest ever in the history of City Life Church! Your offering may be part or all of your total commitment for the next 14 months.
Q: CAN I MAKE MY PLEDGE AND GIVE MY FIRST FRUITS OFFERING ONLINE?
You can absolutely make your First Fruits Offering online! Click here to visit our giving portal. Please make sure to give under "KINGDOM BUILDERS." Even if you give online, you will still be given the opportunity to submit your commitment card during Commitment Sunday on October 20.

Q: WHAT IS THE RELATIONSHIP BETWEEN ONE, AND KINGDOM BUILDERS?
ONE is our strategic vision campaign this Fall. We will lean in together as a church family and dream how God might want to use our church to accomplish His mission in this new season. Kingdom Builders is our ongoing giving fund through which we practice radical generosity and give "above and beyond" to local and global causes that are close to God's heart. In a sense, ONE is a special opportunity to give through Kingdom Builders. But in the end, they are working in the same direction - Kingdom Builders is facilitating the vision of ONE. After the ONE campaign is completed, and commitments have been made, you can give toward your commitment through the Kingdom Builders fund.
Q: HOW SHOULD I DECIDE THE AMOUNT TO GIVE TO ONE?
Pray about it! To ignite your faith, we've provided a "Generosity Chart" to help guide your giving. We encourage you to identify the level at which you're comfortable and pray about moving one level up through faith and sacrifice. Most importantly, we encourage you to pray about ONE and ask the Holy Spirit to guide your decision.
Q: AM I BOUND BY THE PLEDGE INDICATED ON MY COMMITMENT CARD?
We understand that your ONE commitment is a sacrifice and step of faith, and not something to be taken lightly. That's why we take your pledge seriously and trust you will too. We are counting on the money committed in order to plan for the future, and God-willing, fulfill our vision! (But don't worry...we won't have collection thugs hunt you down if your financial future changes!)
Q: I HAVE QUESTIONS ABOUT GIVING FROM MY STOCKS AND ASSETS. WHO SHOULD I CONTACT?
Please contact our Operations Pastor, Jennifer Galindo, who can facilitate special gifts including stocks, bonds, funds, real estate, or legacy gifts. (jeng@citylifephilly.com)
Q: ARE GIFTS TAX-DEDUCTIBLE?
Yes! Every gift to ONE is 100% tax-deductible.
Q: WHAT HAPPENS AFTER OCTOBER 20?
City Life will continue to accept donations for ONE through December 2020. During that time, we'll continue working to fulfill our vision, while keeping our church family updated on all of the progress. We can't wait to see what God does and celebrate every milestone together!
City Life Church is committed to the highest levels of financial integrity. Feel free to email Operations Pastor Jennifer Galindo to ask questions at any time. (jeng@citylifephilly.com)